News From Us
We Maintain Our Competitiveness With R&D Investments
How was 2021 for you? How did you finish the year?
I can say that 2021 was a good year overall. As Doğanlar Furniture Group, our consolidated net sales in 2021 achieved its target by reaching TL 1 billion 744 million and increased by 75% year-on-year.
What is your growth target for 2022?
We aim to increase the consolidated sales revenues of Doğanlar Furniture Group by 80-90% to reach TL 3.2 – 3.4 billion in 2022.
When was your R&D center established, and how many people work there?
Doğtaş and Kelebek, our leading brands within Doğanlar Furniture Group, have separate R&D and design centers. Our first R&D center was established in Düzce in 2014. Currently, a team of 54 people is actively working within this team.
Do you have any plans to expand your R&D center?
R&D is one of the most fundamental issues for us. We will always continue to invest in this field. In recent years, considering the point that the climate problem has reached for all of us, we are paying attention to making investments that will benefit this field. In addition, we also attach great importance to our new R&D buildings that will be completed soon. In this context, we have ongoing constructions of an independent 1,300 square meters R&D building in Biga and an independent 1,400 square meters R&D building in Düzce, which we plan to operationalize in September. We also plan to increase our total number of staff to 100 people.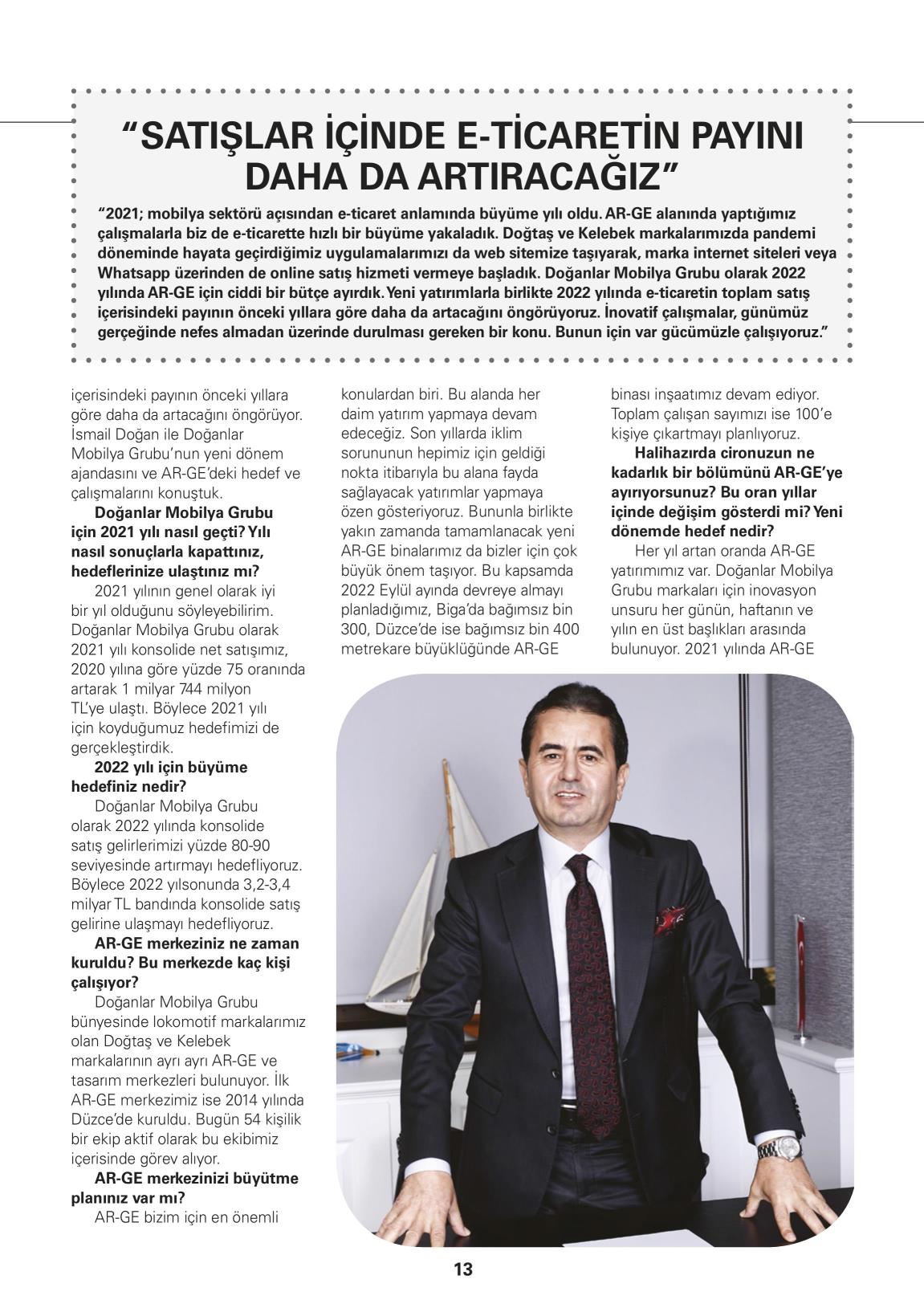 Can you tell us about your R&D activities for 2022?
Last year was a year of growth in terms of e-commerce for the furniture sector. We also achieved rapid growth in e-commerce with our activities in the field of R&D. We transferred the practices that we implemented during the pandemic in our Doğtaş and Kelebek brands to our website, and we started to provide online sales services on brand websites or WhatsApp. As Doğanlar Furniture Group, we allocated a significant budget for R&D in 2022. We foresee that with new investments, the share of e-commerce in total sales will increase even more in 2022 compared to previous years. Innovative studies are an issue that requires continuous focus, in today's reality. This is why we are working so hard.
What are the key elements of your R&D strategy?
Unlimited human need and the ever-increasing consumption trend make it inevitable for enterprises to carry out studies on constantly renewing both themselves and their products. In the furniture sector, the most important point at present is to create and produce long-lasting designs suitable for everyday use, combining form and function. The trick here is to produce furniture that adapts to renewed lifestyles. Modular uses make it easier for us to respond to every need, from shrinking urban houses to houses with larger spaces away from the city. At the same time, the use of special technology to relieve posture problems, one of the most important disorders of today, is among the prominent trends in the furniture sector. In the furniture sector, as in other sectors, the main point is to constantly read new trends as well as consumer trends and to produce proactive solutions. In addition, the R&D department plays a major role in the cost improvements made in our products in order to combat severe conditions of competition and increasing production costs. Thanks to strong R&D, we aim to maintain our competitiveness with cost advantages at all times.
How much of your turnover do you currently allocate to R&D? Has this rate changed over the years?
We have R&D investments increasing every year. For the brands of Doğanlar Furniture Group, the element of innovation is one of the top agenda items every day, week, and year. While the share of our R&D expenditures in turnover (excluding incentives) was 0.6% in 2021, we foresee it to be around 2% excluding incentives this year.
Can you give us information about your new products for which you are currently conducting R&D studies?
Last year, we started using hybrid technology in our Doğtaş and Kelebek brands. We have targeted that 40% of the portfolio of Doğtaş will consist of 100%-recycled fabric use by 2024. We adopt this approach in selecting raw materials as well as in the production processes. Our first attempt in this regard was the sofa design of Doğtaş, which went on sale in stores at the end of 2021. The upholstery of this corner set was produced from the fabric made from 100%-recycled plastic bottles. The wooden parts used in the legs and accessories of the sofas are created using the trees in the forests grown for furniture production. With its Wellness Rest product, our Lova Yatak brand produced a mattress using a sustainable fabric produced from waste and plastics collected from the oceans, in cooperation with Seaqual Initiative. As Lova Yatak, we deliver our store orders within 48 hours. Also, if our consumer is not satisfied, we provide the opportunity to exchange within 120 days. Our investments are ongoing for our e-commerce brand, Ruum Store.